Why do couples renew their wedding vows?
Having grown together over the years, loved and supported each other and developed a deeper understanding not only of your virtues but also your foibles! The creation of a new set of vows, incorporating the new aspects of your love and commitment to one another, can be all embracing and an enhancement to your future lives together.
What is vow renewal?
Regardless of whether it was a civil or religious ceremony, a couple's wedding is usually organised following cultural or religious practices. It may have been the best day of their lives or a total nightmare. There could have been the problem 'mother-in-law' taking over or the risk of family rows if so-and-so was not bridesmaid! In some cases there may have been financial restraints governing the organisation of the event. Whatever the reasons, if they were prevented from having the ceremony of their dreams, or just want to have the fun all over again, then the answer could be the renewing of wedding vows.
What does it really mean?
Such a ceremony allows the couple to take total control. They can organise the event with an expert to have a personal and important affair that is totally significant to themselves. For others they like the idea as an excuse to have a party. From a small, private tryst 'à deux' to a full scale jamboree with a mariachi band, the scope is endless.
To show your love in front of your loved ones!
You may take the decision to renew your wedding vows at some milestone in your lives. This may be approaching a momentous wedding anniversary, for example your silver or ruby anniversary. For some, you may prefer not to wait 25 or 40 years and plan your celebration at an earlier landmark event in your lives. Some people have held ceremonies following the birth or adoption of children. Some have felt the yearning to renew their vows following an accident or illness to themselves and it is their way of expressing their heartfelt thanks to all the love, devotion and support given them at such a traumatic time…
Whatever the reason, the renewing of your wedding vows is the perfect way of publicly declaring admiration and adoration for each other. You have the opportunity to plan and arrange the ceremony from beginning to end, thereby incorporating into it all the experiences and intimacies that are a reflection of your love and your lives together.
You may have had such a wonderful and romantic wedding day that when you decide to renew your vows you want to re-create such a memorable day. Sometimes right down to the last detail where possible! You would not go through the wedding again but many religions have rites for either renewal of wedding vows or a blessing. This also applies to humanist ceremonies. The couple may incorporate into the service their own words, poems or readings to be said alongside prayers and hymns. However, it would be an idea to let the officiating person see these prior to the ceremony to make sure they are appropriate!
It may be you were only able to have a civil wedding due to the outdated practices of not allowing a couple to marry within a particular religion because of strict ethical and moral codes enforced at the time. Nowadays, however, many faiths have relaxed their codes, thereby making it possible for you to have your dream come true. So if your dream is to walk down the alley then go for it! If you have harboured a dream of having the big affair with wedding dress, bridesmaids, maybe top hat and tails, the marvellous thing about renewing of your vows means, quite literally, you now have the opportunity to create that big white wedding of your dreams. After all, you may have spent many years imagining the event and all its refinements.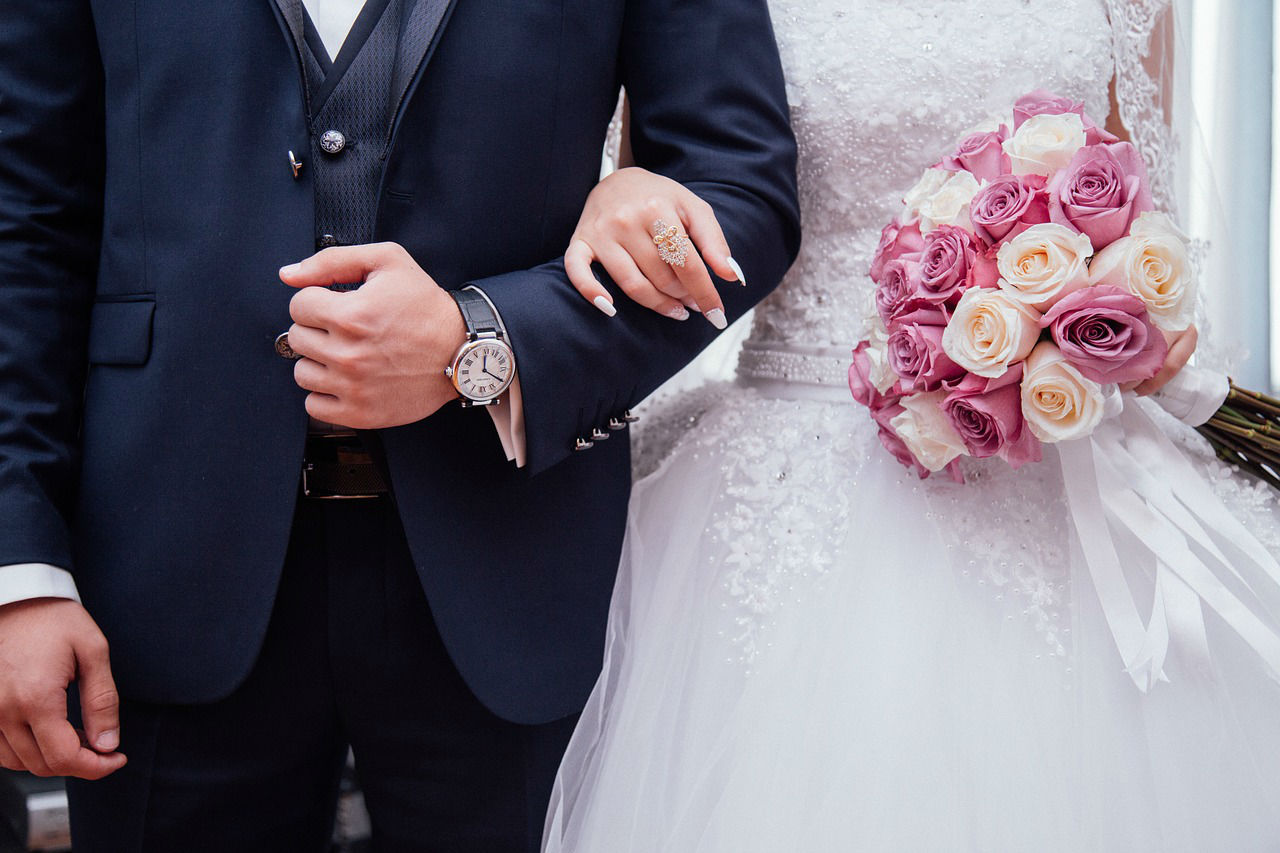 Whatever the reason, the renewing of your wedding vows in the presence of your dearest loved ones in a religious setting brings, for many, a deep and spiritual comfort to your relationship.
For some, you may have found that your wedding was strongly influenced by the necessity to conform to family traditions. This quite often, in years gone by, meant inviting all and sundry within the family, including 'great aunt Maude who has just bought a new hat just for the wedding!' By the time all of the invitations have gone out to guests who have to be included because you cannot invite one without inviting another. For those who had these constraints placed upon them, the renewing your vows in the presence of dear friends and family, particularly those who have bought joy and happiness throughout the journey that is your marriage, this can be a wonderful way of saying thank you. Friends who have been there for the couple, through the good times as well as the bad, could find it tremendously awe-inspiring to realise how highly esteemed they are held to be, invited to such a personal and romantic event.
Some, however, do not feel the need to make a public affirmation that your marriage is still one of complete love and devotion. Your choice may be to have a very private and intimate affair. Perhaps a ceremony involving faith but with just the clergyman and one or two friends present. Maybe you want to return to a destination that holds romantic and beautiful memories or has a particular significance in your lives so maybe having a vow renewal in Paris.
A pretext to celebrate and have fun!
In some cases a couple may choose to renew your vows purely as the perfect excuse to have a 'knees up!' Bringing together family, extended or otherwise, friends, work colleagues or even aunt Maude with another new hat, is just as important as the renewing of your vows itself.
You can indulge yourselves in the party of all time. Hiring a hall, decorators and caterers as well as bringing in a group or band to entertain them and your guests. Arrange the hall to carry out the ceremony in whatever format is chosen. Some have even chosen to recreate what would be seen as a typical wedding, officiated by a family member or friend. But a word of advice! Make sure it is carried out before the bar is opened!
Then there are the big surprise events! What could be more romantic than to turn up to what is believed to be just a normal day and find that your spouse has arranged the renewal of your vows. Hopefully you will be overcome with emotion and be lost in the spontaneity of the moment. Imagine walking into a room full of cheering and whooping people. Who could resist such a passionate and possibly crazy celebration?
Some may prefer to gather up the family and friends and fly off to sunnier climes to renew their vows on a sun-kissed beach or tropical island. You could charter a plane if money is no object and renew your vows in the sky!
So, why should you renew your marriage vows? After years of marriage your relationship will, inevitably, have taken on a new meaning. Vows that you took on your wedding day may no longer have the same priority in your lives. You may feel the need to declare to each other promises that are more relevant to your relationship. Whatever the reason to renew your vows the choices are endless and the only constrained by your imagination and you finances! It has to be remembered that a ceremony for renewing your vows has no legal status. But you are already legally married!